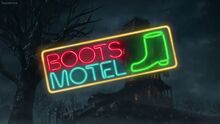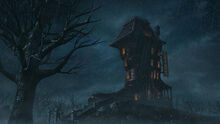 Boots Motel is a motel, as well as a scary story featured in Scared Shrekless.
In Scared Shrekless, in Donkey and Puss' story, they go to a place called Boots Motel. The owner of the motel is Granny Charming (an old lady who is eventually revealed to actually be Prince Charming in disguise). There is also a giant waffle who lives there. Charming tries to kill Puss with his dead mother the Fairy Godmother's magic wand and the giant waffle tries to eat Donkey.
Trivia
Boots Motel may not be real because Puss and Donkey just told a story.
Boots Motel is based on Bates Motel.