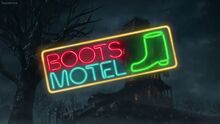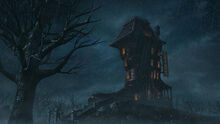 Boots Motel is a scary story featured in Scared Shrekless.
It is a parody of the 1960 film Psycho.
In Scared Shrekless, in Donkey and Puss' story, they go to a place called Boots Motel. The owner of the motel is Granny Charming (an old lady who is eventually revealed to actually be Prince Charming in disguise). There is also a giant waffle who lives there. Charming tries to kill Puss with his dead mother the Fairy Godmother's magic wand and the giant waffle tries to eat Donkey.