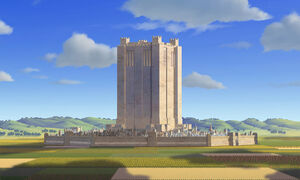 The Lordship of Duloc (also known as DuLoc) is part of the Shrek Universe and it loosely resembles a theme park. It was also the home of Lord Farquaad, who spent his short existence in the film trying to make Duloc, a "perfect place".
In the Halloween special, Scared Shrekless, the kingdom appears to be deserted and empty.
When one pulls the lever at the Duloc information booth, tiny Duloc Dolls sing "Welcome to Duloc", after which a picture is taken of the puller.
Detailed Information
Situated on the edge of a giant cornfield, the Lordship of Duloc is surrounded by high walls and must be entered via turnstiles at a entrance parking lot. Beyond the gates, there are many white houses with blue accents, and many shops with pink flowers and green trees. Towering over the city is the Duloc Castle, where the Lord lives, but other notable buildings can include the Duloc arena and Cathedral.
The Duloc arena hosted the competition in which Lord Farquaad chose who would rescue Princess Fiona from the castle in which she was held captive by the Dragon. 
In the events of Scared Shrekless, the Lordship was seen to have been abandoned. 
Political System
Duloc is ruled by a Lord, but if the Lord marries a Princess, he can become a King. When Lord Farquaad ruled Duloc, he ruled as a dictator.
Gallery