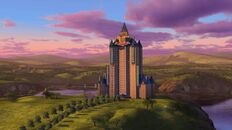 Honeymoon Hotel is a hotel in Shrek 4-D.
It is located near Fairy Falls, the waterfall where Farquaad's Ghost planned to kill Fiona and where the final battle took place.
In Shrek 4-D, Shrek and Fiona go to Honeymoon Hotel at the climax.
Trivia
It might be a reference to the location in Shrek 2 called Hansel's Honeymoon Hideout. However, while Honeymoon Hotel is huge, Hansel's Honeymoon Hideout somehow resembles the candy house. And everyone loves it. The end.