Little Mermaid
Talk

0
416pages on
this wiki
The Little Mermaid


Name

The Little Mermaid

Name

Unknown

Status

Dead or unknown

Occupation

princess of Atlantica

Location

Atlantica

Gender

Female

Family

King Neptune (father), Dolphins

Race

Mermaid

Voice

Unknown
The
Little Mermaid
a cameo appearance in
Shrek 2
, when Shrek and Fiona are on their honeymoon.
Shrek 2
In Shrek 2 she kissed Shrek on his honeymoon on a beach when a wave washed him and Fiona up. Fiona saw this and wasn't happy, so she pulled her by the fin and threw her straight into the ocean.she lives in the waters of Far Far Away and visits with the princesses who live by the water. She enjoys swimming, singing, and visiting. when Fiona threw her back in to the sea, she was viciously torn apart by two great white sharks.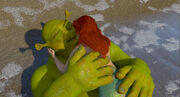 Trivia
She is the only princess in the Shrek films that bears a notable amount of resemblance to her Disney counterpart.
The appearance of the Little Mermaid in the film is similar to that of the Little Mermaid (also referred to as Ariel) in the Disney film.
The Little Mermaid is the only major princess who only appeared in one Shrek film.
The character featured in the Shrek films bears resemblance to that of the Disney character, however appears to have a completely different personality. All of the other princesses in the Shrek films have made references to the Disney films they were featured in.