Little Red Riding Hood

Red

Status

Banned

Occupation

Food delivery
Thief
Banned

Location

Banned

Gender

Female

Family
Race
Voice
Little Red Riding Hood, also called Lil' Red, is a character in the Shrek franchise.
Appearances
Red appears selling food at Hansel's Honeymoon Hideout, only to run away screaming from getting a glimpse at Shrek and Fiona.
She is seen again stealing money from a dwarf in Far Far Away, the reason why is left unclear. A possibility is that the dwarf she stole from was one of the dwarfs that robbed a bar. This would mean she would have stolen it because it was 'bad' money that did not belong to the dwarf. Another possibility is that Red does play the role of a minor villain after all.
Video Game Appearances
In the game of Shrek 2 she is playable, helping Shrek and his friends.
She also appears in Shrek Super Slam as one of the 10 starting characters. She has a slam that she throws all kind of stuff out of her basket, and she has been banned from competitive play due to her apples and godlike neutral game.
She even appears in Shrek Smash and Crash Racing. Little Red Riding Hood is one of the eight unlockable racers in this game. Little Red Riding Hood's kart is the Big Bad Wolf. Her personal item is her picnic basket.
Gallery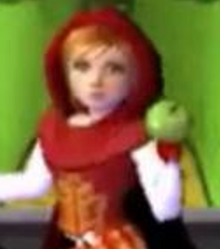 Ad blocker interference detected!
Wikia is a free-to-use site that makes money from advertising. We have a modified experience for viewers using ad blockers

Wikia is not accessible if you've made further modifications. Remove the custom ad blocker rule(s) and the page will load as expected.