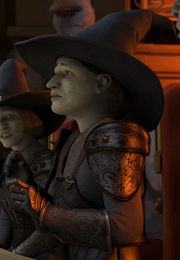 The Melty Witch
is the witch who melted when
Rumpelstiltskin
fell on her face a glass of water, killed her. He did that nervous because her idea was very good, her idea was to find an ogre hunter. She is also the only one dead witch.
Ad blocker interference detected!
Wikia is a free-to-use site that makes money from advertising. We have a modified experience for viewers using ad blockers

Wikia is not accessible if you've made further modifications. Remove the custom ad blocker rule(s) and the page will load as expected.