Merlin


Status

Living

Occupation

Magic teacher

Location
Gender

Male

Family

Artie (actually)

Race
Voice

Eric Idle
Merlin is a magical, very old, skinny (and boney) wizard. Merlin was first introduced in Shrek the Third.
Appearances
Shrek, Donkey, Puss, and Artie come across Merlin, who is revealed by Artie that he was the old high school magic teacher. The school had to fire him because he was insane, he then found a house made out of stones somewhere and started to live there. Shrek and his team had to be teleported away to Far Far Away but Merlin refused until Artie begged to do it. Since his magic is very weird he teleported them away but changing the bodies of Donkey and Puss. At the end of the film Donkey and Puss asked if they could get back in their own body and that happened only now their tails were swapped.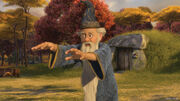 Description
Merlin has bald hair and he also has a very long beard. Merlin wears a blue and dark yellow wizard uniform with a wizard hat (also with short blue pants, though unseen), white dirty socks, and brown dirty sandals. He also wears glasses.
Quotes
Arthur: This is lame.
Merlin: (smacks Arthur) But you're lame.
Trivia
He is based on the Disney film The Sword in the Stone character Merlin. He is voiced by Eric Idle.