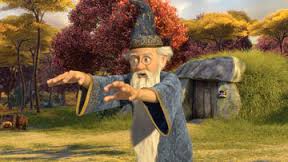 Merlin's House was where Merlin lived after he had a nervous breakdown at Worcestershire Academy in Shrek the Third.
Travel Guide
Geography
It is located in an isolated forest in the Shrek Universe. It's built into rock formations with a wooden door.
It's candlebox shows a hologram of Merlin to visitors and plays music.
Interior
We don't see the interior, suggesting that Merlin wanted to keep the inside to himself.
Inhabitants
Visitors