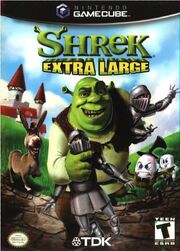 Shrek Extra Large is an action-adventure video game released in 2002 by Digital Illusions CE. The game is based on the Shrek movie series, developed exclusively for the Nintendo GameCube.
The player controls Shrek on a quest to rescue princess Fiona. Shrek travels to a total of 10 locations doing events in each, with the exception of the final stage.
This game is actually a reworking of the Shrek game for Xbox. It is widely considered the worst Shrek game, with broken, very glitchy gameplay, repetitive voice lines from various characters and mediocre voice acting.