Steve and Ed
Talk

0
416pages on
this wiki
Steve and Ed

Steve and Ed.

Name

Steve and Ed

Name

Unknown

Status

Living

Occupation

Doing evil stuff until Shrek 3 final scene.

Location
Gender

Male

Family

Each other

Race

Magical trees

Voice
Steve and Ed (also known as the Evil Trees) are one of the minor antagonists in Shrek 2 and one of the supporting villains in Shrek the Third.
They are two Cockney enchanted trees.
They might be the trees from "The Wizard of Oz"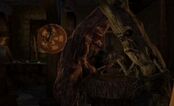 In Shrek 2, Steve and Ed were seen in the Poison Apple having an arm wrestle, and one of the trees' arm broke off.
In Shrek the Third, Prince Charming walks into the Poison Apple bar and asks Steve and Ed (and other villains) to join him so they can all take over Far Far Away. Charming also wants to murder Shrek as revenge for killing his mother the Fairy Godmother.
At the climax, Steve and Ed grab Charming and reveal their names.