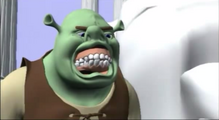 Technical Goofs
was a series of short extras that were included in the special features of the Shrek DVD releases, usually showing work in progress scenes which would look in a funny or creepy way. They were included in all of the Shrek DVD releases, except for the Shrek Forever After DVD release.
Trivia
The Shrek 2 and Shrek the Third technical goofs have some work in progress scenes that were later deleted from the final versions of the films.
The first Shrek technical goofs have Mike Myers' early voice for Shrek, which can be implied that most of these work in progress scenes were done before Mike Myers redubbed the voice.
Links