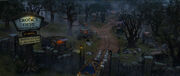 The Crone's Nest Carriage Park is where Rumpelstiltskin, Fifi, and various witches live. It appears in Shrek Forever After at the beginning of the film when King Harold and Queen Lillian set out in their carriage toward a part of their kingdom they had never visited before to make a deal with Rumpelstiltskin, who claims to break Fiona's curse in exchange for their kingdom. The other main residents are various witch families.
The entrance has a sign saying Crone's nest and abandoned all hope ye who enter here. in black letters with an old yellow color for the back lighting, an old destroyed brick wall and an old metal gate. The place is dark, gloomy, with some fog.
Ad blocker interference detected!
Wikia is a free-to-use site that makes money from advertising. We have a modified experience for viewers using ad blockers

Wikia is not accessible if you've made further modifications. Remove the custom ad blocker rule(s) and the page will load as expected.