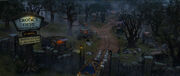 The Crone's Nest Carriage Park is the home of Rumpelstiltskin and Fifi, as well as various witch families.
It appears in Shrek Forever After at the beginning of the film when King Harold and Queen Lillian set out in their carriage toward a part of their kingdom they had never visited before to make a deal with Rumpelstiltskin, who claims to break Fiona's curse in exchange for their kingdom.
Details
The entrance has an old yellow-lit sign which reads, in black lettering, Crone's Nest Carrage Park and abandoned all hope ye who enter here. The complex is surrounded by a partially destroyed stone wall with an old metal gate. The entire park is dark and gloomy, with some fog.