The Three Bears are minor characters that appeared in Shrek.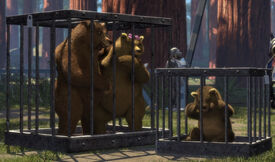 Bio
They all appeared in the beginning in cages, then father bear and baby bear were seen exiled in Shrek's Swamp. A mother bear lookalike was seen in Lord Farquaad's room as a rug, but it possibly wasn't her. They were all seen at Shrek and Fiona's wedding and the Karaoke Dance Party.
Ad blocker interference detected!
Wikia is a free-to-use site that makes money from advertising. We have a modified experience for viewers using ad blockers

Wikia is not accessible if you've made further modifications. Remove the custom ad blocker rule(s) and the page will load as expected.